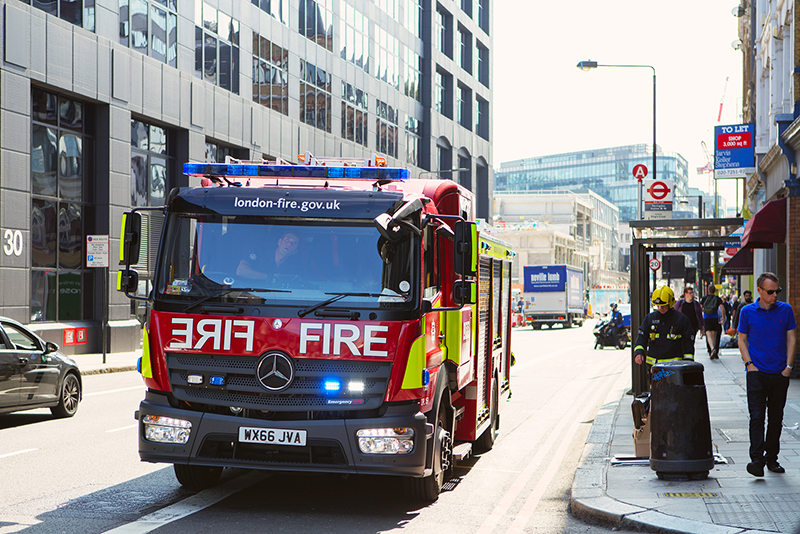 A fire has broken out in a block of flats in West London, resulting in 40 firefighters being called to battle the blaze.
Earlier this month (July 16th), the London Fire Brigade was alerted to the incident at a six-storey building on Bromyard Avenue, East Acton.
After taking 28 calls about the fire, it sent six fire engines and 40 officers from Acton, Hammersmith, Chiswick, Ealing and surrounding areas to the scene before midday.
It is thought the blaze started in a five-roomed flat on the fifth floor, resulting in black smoke pouring out of the top of the tall building.
The London Fire Brigade released a statement that said: "One woman left the affected flat and a further 29 people left the building before the Brigade arrived. There were no reports of any injuries."
It went on to say: "The cause of the fire is under investigation."
According to the London Evening Standard, one witness took a video of the blaze showing a woman standing on the roof of the building, just a few metres from the fire.
Having posted the footage on social media, the witness Thomas Desodt wrote: "Crazy fire in Bromyard Avenue flats in #Acton. (Neighbour got out OK via balcony.) @LondonFire extinguished it from the inside quickly and super professionally."
Mr Desodt confirmed the lady managed to escape by climbing on to the balcony and going into another apartment in the block.
This comes just a few days after a fire erupted next to an electrical sub-station in central Edinburgh, leaving nearby offices and commercial buildings damaged by the flames.
For information about our fire and security services to ensure your building is as safe as possible, give us a call today.